'Being Good is good business'
Corporate Social Responsibility (CSR) is also called as corporate conscience, corporate citizenship or responsible business. It is a hard edged business decision. Not because it is a nice thing to do or because people are forcing us to do it but because it is good for our business and more importantly good for our world.
Tetrasoft has been closely working on various CSR initiatives it is our way of giving back to the society. Over the years we have conducted many activities such as blood donation camps. One such CSR activity conducted by Tetrasoft every year is the free water camp and Parents care.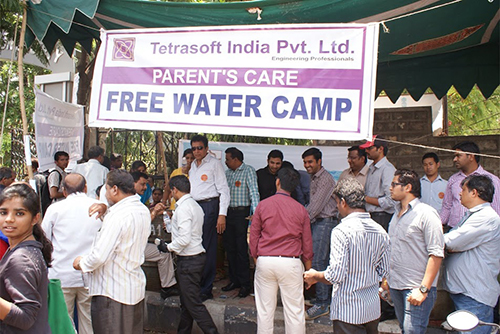 Free Water Camp and Parents Care (Conducted every summer):
Safe drinking water is essential to humans and other living beings even though it provides no calories or organic nutrients. Every year we conduct a free water camp during summer season at Muffakham jah College of engineering in Banjara hills. On that day we provide free water bottles to the students who are going to attend Engineering and Medical entrance exams and wishing them all the best for their tests, since these students will become responsible citizens in future. Also we provide assistance to the parents of those students.
Our Recent Activities: