Points of Failure Exploding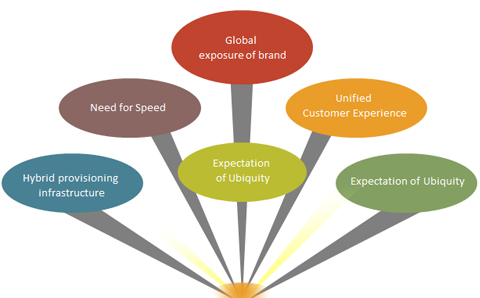 Mobility:
Devices such as smart watches, smart phones, health bands, smart home devices, smart cars, digital assistants, industrial sensors and GPS enabled transportation devices are constantly generating data which is mostly real time-time series based data. These connected devices feed data to applications platforms using large and varied data (Big Data), analytics/reporting, AI and deep learning. In this environment there is a certain possibility of explosion in failure points in the form of vulnerabilities, threats and attack vectors which are technology specific.
Need for Speed:
Need for speed in design, development and provisioning of infrastructure is creating new vulnerabilities and failure points. For instance, there is a serious IP infringement risk in using open source components.
Regulations' Support:
Globally all countries are realizing the importance of managing the digital risk by defining new policies, processes and controls. These help in managing risk and privacy. For instance General Data Protection Regulation is strictly getting implemented in European Union and European Economic Area. Similarly there are guidelines such as HIPAA.
Changing and evolving consumer behaviour:
Software design has changed; they are driven by user journey and behaviour. Digital IT infrastructure is designed and build around the consumer. Consumers have freedom to choose the risk level and engagement. This inherently creates several failure points.
New Business Models:
With the increased ability to collaborate globally, digital partnerships have been prevalent. This generates new failure points. Brand equity exposure is now global as the entry barriers are non-existent. Integration across partner IT systems brings new failure points at a different level.
Expectation of ubiquity:
Ubiquitous technologies present new opportunities to improve the quality of life and efficiencies. However, this brings additional risks and failure points.
Buzz
Tetrasoft join hands with SAHI
Tetrasoft announced today that it supported SAHI foundation and organized...
Tetra PharmaOne @ IPhex - 2019
Tetrasoft participated in IPHEX 2019, organized by Pharmexcil...
Tetrasoft Samanvay - 2018
Our techies immersed in cultural programs on the eve of their annual get-together...